Lights, Camera, Action!
With major growth in social media, every business today needs to leverage proper social media channels in the best possible way. Target audiences are hanging around the popular social networks and engaging with their favourite brands. By incorporating social media into your business, you are not only generating more business, but you are also connecting with your customers. High engagement with your brand on social media means a greater chance of people recommending you to others.
The Flagstaff Crafted team is always looking at ways to share new learning opportunities with their makers. In October, a member of our team had the opportunity to attend a Stylized Photography and Brand Marketing Course hosted by Vintage Society Co. The course outlined ways of creating effective brand strategies to give you a major edge in increasingly competitive markets. We knew how beneficial these strategies would be if shared with our Flagstaff Crafted makers so without hesitation we invited them to speak at our next maker meetup.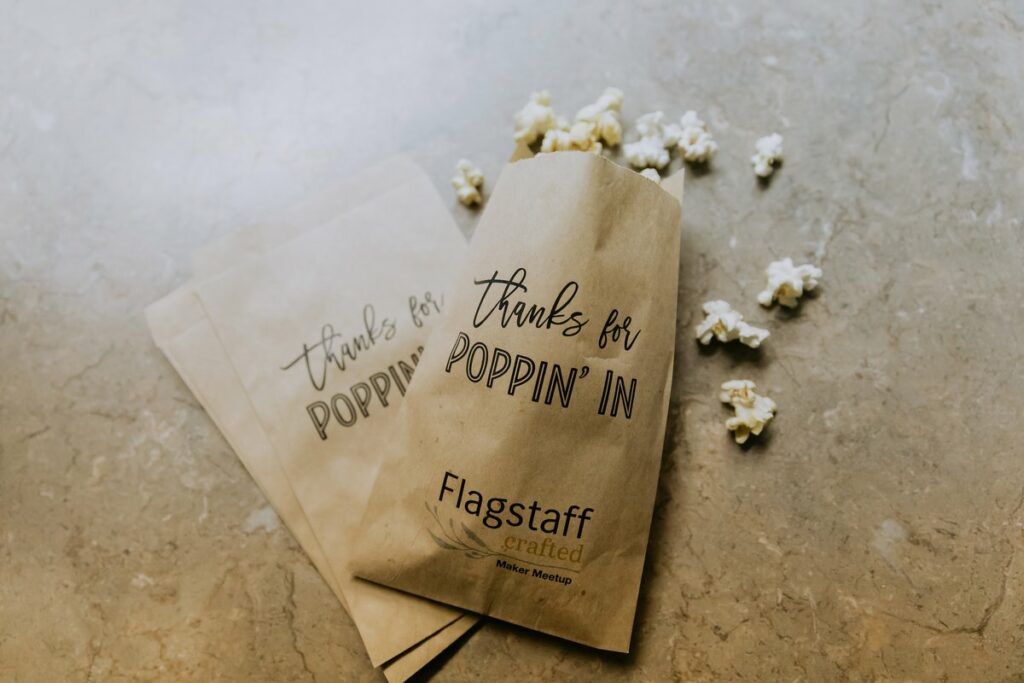 Thanks for Poppin' In
The popcorn was popping at the Daysland Palace Theatre. We were eagerly waiting for our makers' arrival. It's always exciting to see both familiar and new faces come through the door at any of our events. It's truly inspiring to be in a room filled with an entrepreneurial spirit. With popcorn and pop in hand, guests began making their way to a theatre seat. Que lights and camera – Introductions were made and it was now time to begin!
ACTION! …
---
Let's Begin
For the next hour, we listened intently as Brittany and Deborah from Vintage Society Co. shared the 'ins and outs' of marketing your business using the power of social media. They broke it all down into 8 key strategies that will lead you to marketing success using social media.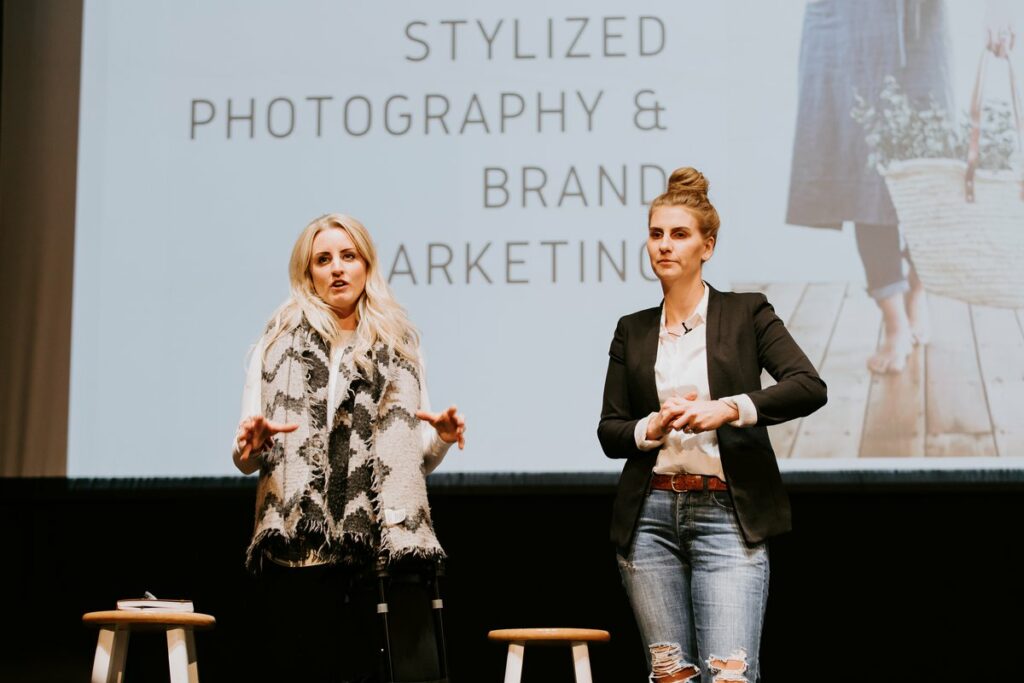 Objective (AKA Dream) – Sell, motivate, educate.
Niche – Where do you and your brand fit?
Limiting Beliefs (AKA Small Talk) – Do you believe in yourself? Your brand? You must believe in yourself so others believe in you too!
Instagram – All the basics (profile, timing, hashtags, tagging, sharing, stories/IGTV) plus do's and don'ts.
Brand Marketing 101 – What platform is right for you? Does your market know what you are all about? Tell your story.
Post With Purpose – Hook (draw them in), tell your story (be relatable), and close (call to action).
Content – Be prepared, be appealing, and be consistent.
Community – Find your tribe, reach out to other 'like-minded' people. Take initiative, don't wait around for things to happen, go out and make it happen!
---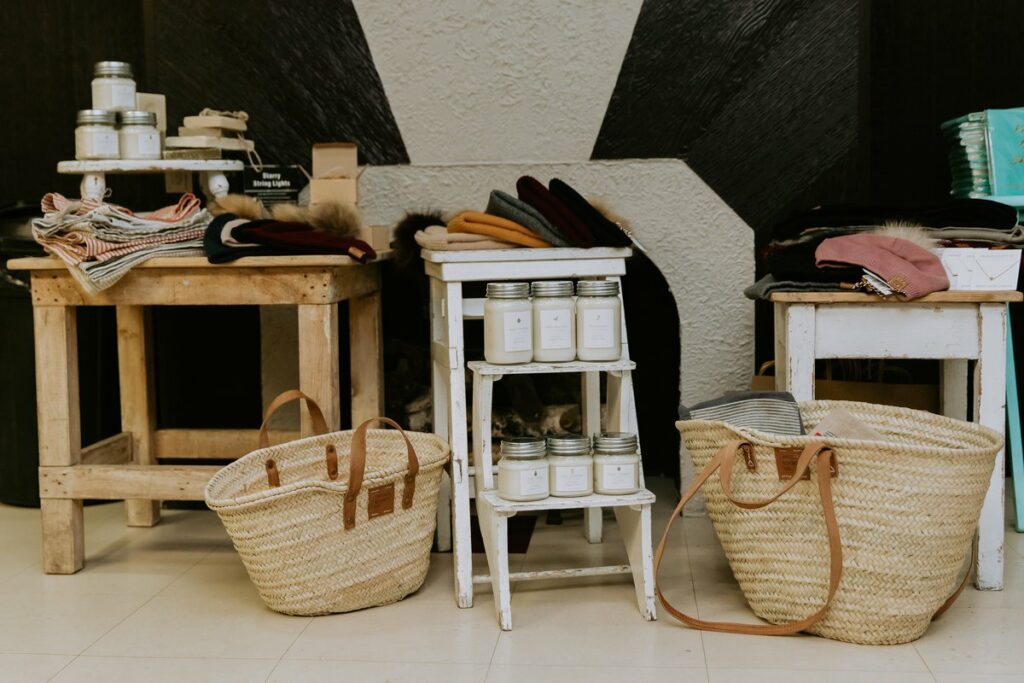 But First…
WOW! You could feel the excitement in the theatre as makers networked following Deb and Britt's presentation. The thought of implementing these new strategies was exciting and we were eager to head home and begin the process of implementation. BUT FIRST, it was time to shop. Vintage Society set up a Pop-Up Shop in the theatre filled with all their favourite home decor. Vintage Society not only offers courses on Brand Marketing and Stylized Photography, they also offer interior design services, have an online shop filled with their favourite antiques and apparel as well as offer mentorship and workshops for small business owners.
---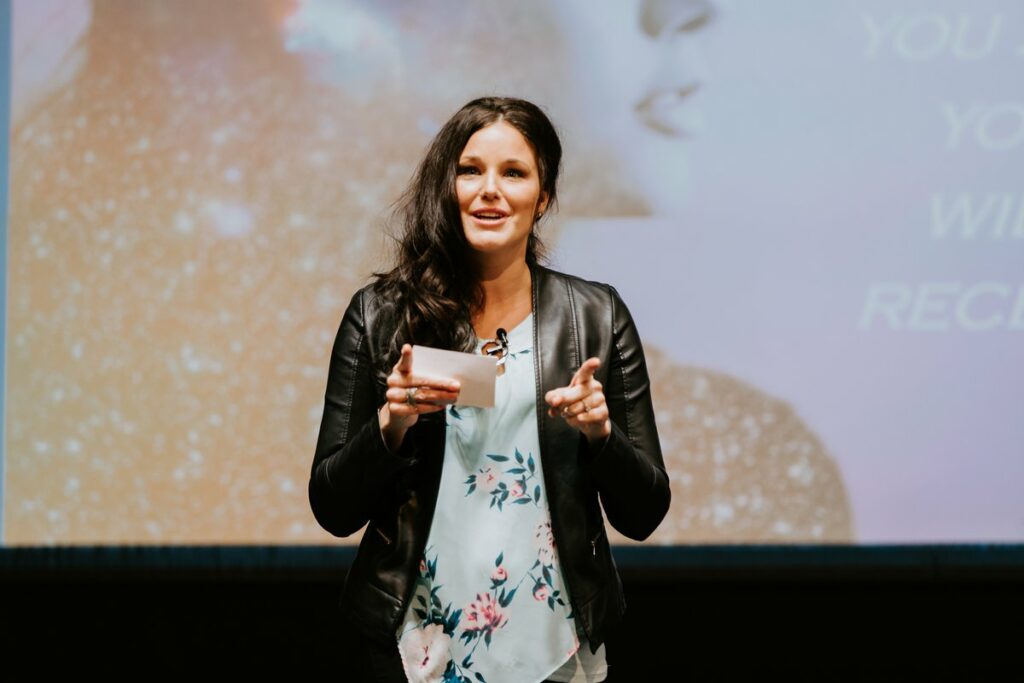 Dream, Believe, Succeed!
After a few laughs and filled shopping bags, it was time to take our seats and finish the night off with a presentation by The Lantern TL. We all know the importance of meditation and mindfulness. It's finding the time to implement these practices into our busy lives that can be a challenge. The Lantern TL presented 'Dream, Believe, Succeed'. She took us through a meditation technique where we became mindful of the different parts of our body. Meditating helps us to control our minds and turn off our thoughts when they are no longer serving us in a positive way. It is believed that meditation is essential to feel well and live a happy life by eliminating negative thoughts, worries, anxiety and all other factors that can prevent us from feeling happy. The Lantern TL guided us through a 'Mindercise' that if practiced on a regular basis, has the potential to upgrade every aspect of our lives. With training in human potential and holistic nursing, The Lantern TL implements tools of positive psychology to assist others to release that which holds them back from reaching their highest self. If you're looking for ways to level up your business by implementing tools of positive psychology into your daily life, contact The Lantern TL.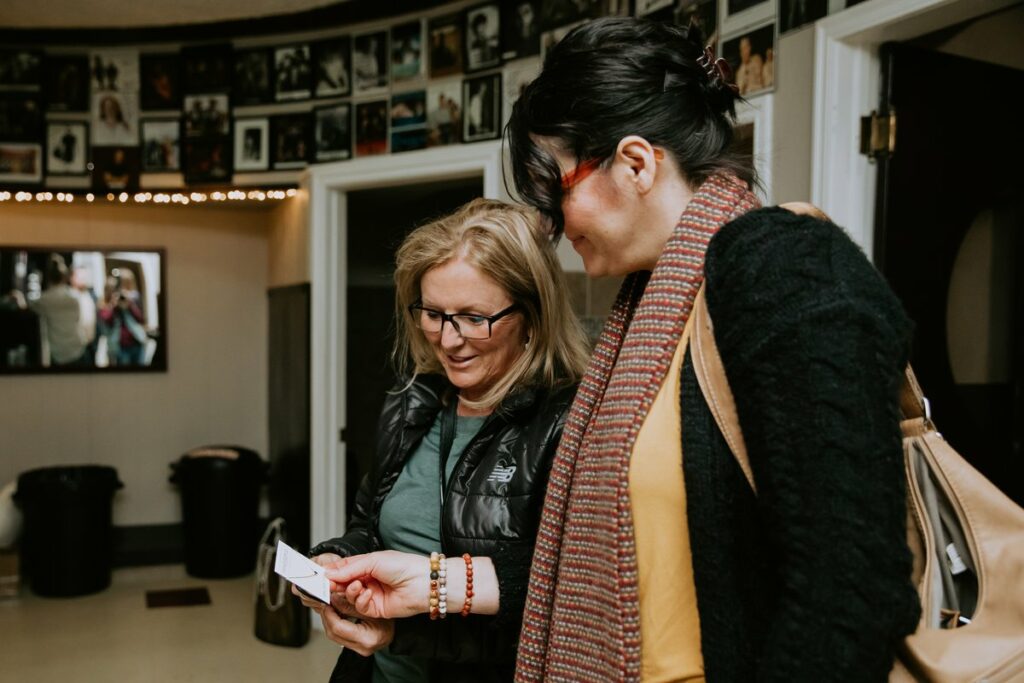 Thank You!
A huge thanks to everyone who participated in the evening. These experiences have a huge impact on the success of Flagstaff Crafted. Together we can lead the way in the makers' movement.