How Willow Hill Designs Turned A Dream Into Reality
Deciding to start your own business takes a great deal of courage, determination and, most importantly, a plan. Many entrepreneurs possess business fundamentals and management traits, however, they sometimes lack the patience and tenacity to see the business through to success. After facing some degree of failure, there is a chance a small business owner may want to give up on their dreams and pursue a 9 – 5 job. Stats show that 20% of small businesses fail in their first year, 30% in their second year, and 50% fail after five years in business. As an entrepreneur, gearing up to start your own business may feel intimidating. Seeing this rate of failure can be disheartening, however, we have to think positively and focus more on the rate of success. It's the whole 'glass half empty or half full' philosophy. Having an optimistic outlook on life and business can change your perspective and improve your chances of succeeding. You can cultivate this perspective with determination and hard work, always knowing that no matter what, you'll land on your feet.
No two small businesses are the same, however, it's important that we stick together and learn from each other. There's a lot of value in immersing ourselves in the small business community and study those who are experiencing positive results. Here at Flagstaff Crafted, we are a community of makers supporting one another through conversation and collaboration. We connect our makers with the resources they need to succeed and foster a positive environment in which small businesses can flourish and grow. Let's take a close look at one of Flagstaff Crafted's small business success stories. We can learn from the key decisions and sacrifices they have made that has gotten them to where they are today. We sat down with the Wolbeck's from Willow Hill Designs out of Heisler, AB, to learn more about their journey.
Read our Q and A below.
What made you decide to start your own handmade business?
Willow Hill Designs was originally known as "Designs by k." I started in 2011. I had a well-behaved kiddo at home and Dennis was working shift work at the Paintearth Mine, I was looking for things to fill my time!
Dennis was adamant that he didn't want to be involved in my little projects, but he couldn't help getting his hands busy with the woodworking (especially when he saw me using his skill saw, cutting boards on the ground). Something about "safety" concerns made him step in. Our projects started out small and simple — small signs, boards, simple designs, a little bit of glass etching, all done with vinyl and stencils.
Soon, we were getting busier and busier with custom orders. We participated in approximately eight markets a year, more so around the Christmas season completing orders and gifts for family and friends. The majority of our work was local, word of mouth. We started a small Facebook page, however, the majority of our traffic was local within Flagstaff County. We have always felt supported in our area.
We did all our woodworking outside, and on one particularly blustery day (i.e. -25 degrees and snow), we decided we couldn't work outside anymore. We converted a portion of our garage into a little heated workshop. There was no turning back! We continued to do all the painting, staining and assembly on our kitchen island. Our table was often covered in half-finished projects, our walls had signs leaning up against them all the time. The life of a maker!
In late 2013, one of our returning customers contacted us looking for a letter "C" cutout of wood. We had access to an older scroll saw, so Dennis took it upon himself to cut out a letter C the 'traditional' way. It did turn out great, but his wheels started turning. I remember the day he came to me and said: "You know there are machines out there that could cut this for us!". His motto has always been "Work smart, not hard". After countless hours of research, thought and fingers crossed we ordered our first CNC.
With Dennis and I officially joining forces, the "Designs by k" name just didn't work anymore! We decided to change our name, finding something that suited us both. Finding a name that we both liked was tricky — to be honest, we spent more time debating the name of our business than we did our firstborn! Inspiration struck when we looked out our front window! Our house is built on a bit of a hill and there was a giant willow tree in front! Thus, Willow Hill Designs was born.
We continued like this for several more years, getting busier and busier with our growth steadily increasing. We started to pull out of almost all markets, focusing on our online presence. Dennis was still working shift work, and our increased business meant things were really tight on time. He was often known for coming home from the night shift and painting, cutting and sanding just to get caught up before going to bed for the day.
In 2018, we were expecting our third child and were contacted by Laurie's Vintage Creations for some wholesale woodcut pieces that she could sell in her shop and use as workshop materials. With her encouragement, we decided to create a bit of a catalogue for her to choose from. This really jump-started our wholesale movement.
After a long debate, we decided to discontinue all painting and finishing aspects for our designs, moving to a wholesale base of retailers across Canada looking for wooden items for their stores and workshops. Laurie's support was instrumental in us starting our wholesale journey and we are super grateful for her support and encouragement. In order to keep up with our new clientele, we decided together that Dennis would leave his job at the mine and work full time from home with Willow Hill Designs.
We are now 1.5 years into the wholesale aspect of our business and we are slowly starting to add in a few more finished designs back into the mix. We are really enjoying the finer art of working with natural hardwoods. Maple, walnut, cherry and hopefully some more exotic woods in the near future.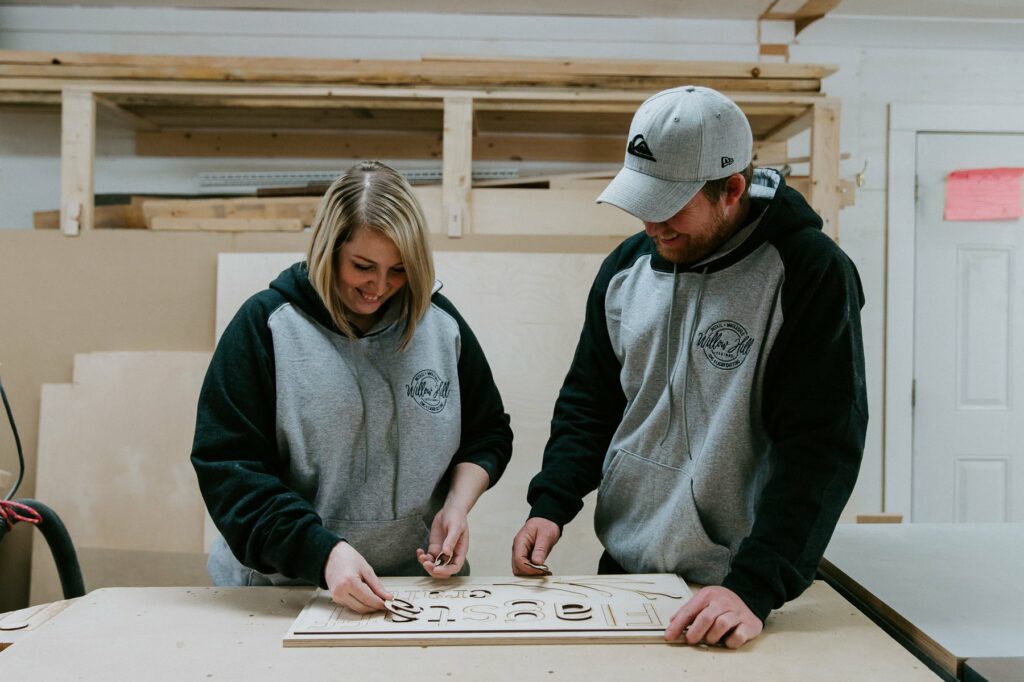 "Work smart, not hard."
Dennis Wolbeck
What do you attribute your business growth to?
Quality. We have always prided ourselves on having a better quality product than our competition. We have thrown out dozens and dozens of signs almost near completion due to flaws, errors, paint blemishes, etc. Seeing some of the products on the market make us cringe sometimes — but everyone has their own taste, opinion on everything. Ours is just one of a flawless finish. (Sometimes I wonder if we are too picky…).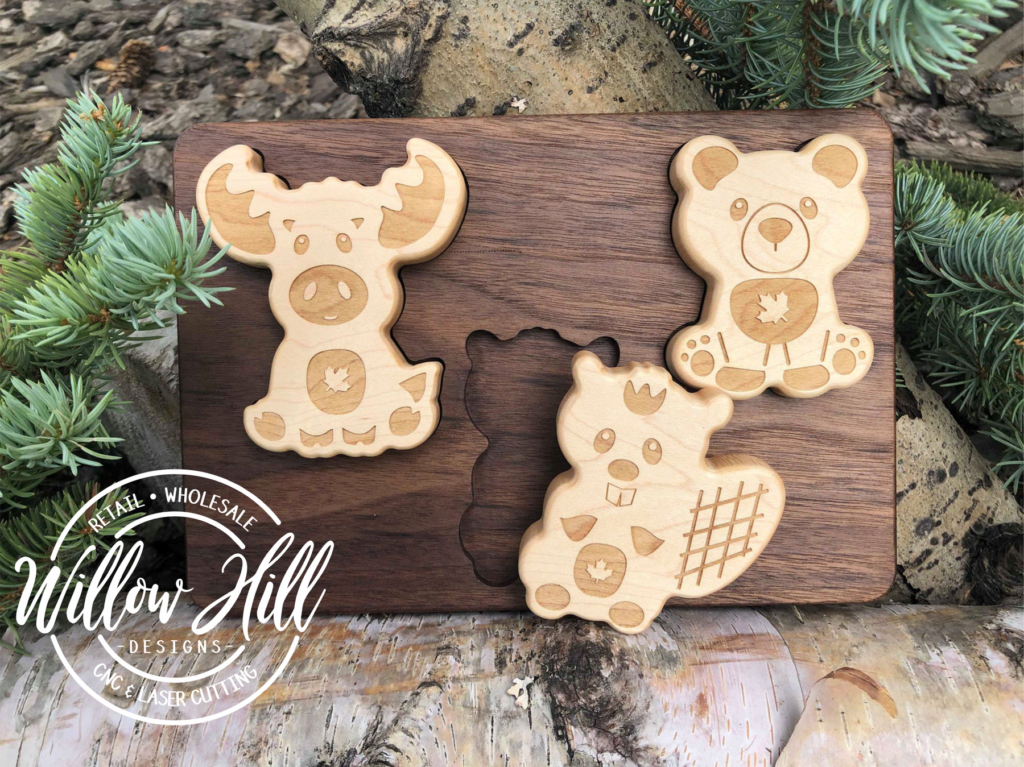 What inspires you most in business?
The endless amount of creativity that we can do ourselves! Now that we have the technology, the equipment, and the skill, we can do almost anything we wish… our only constraint now is time! ​Every day we wake up and think of something we want to cut, paint, engrave, design…make! Only to come to the conclusion that it will have to wait for another day.
What inspires you most in life?
Our kids. We do this all for them — follow your passions and work with your hands! It's pretty crazy to look back over the years and think of all the things we have made.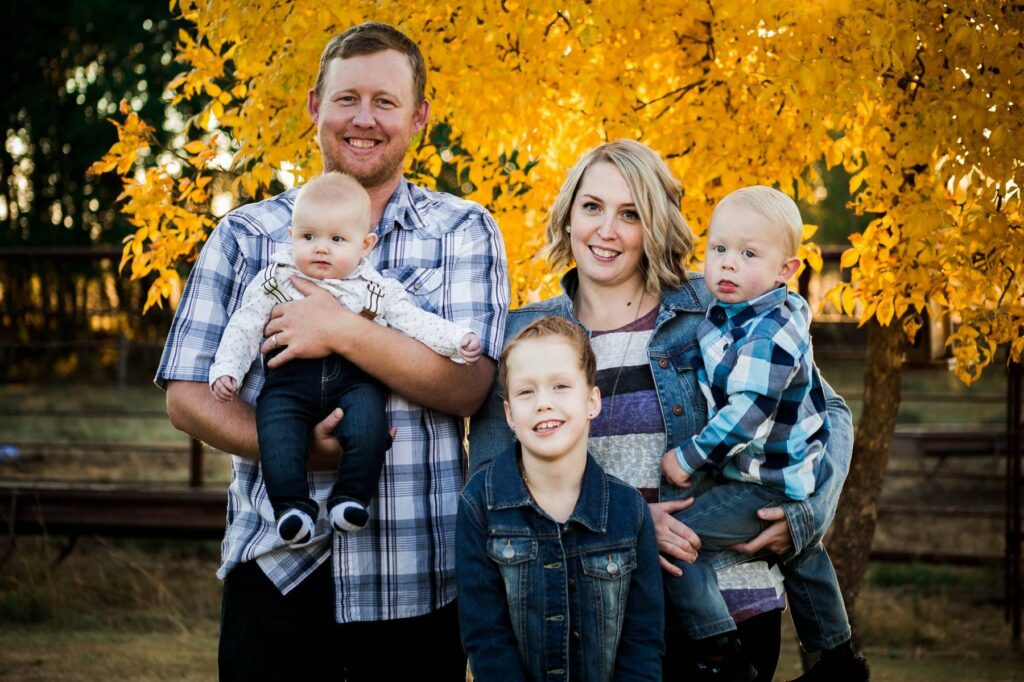 What have been some of your biggest challenges?
A new business grows through challenges every day. Our first challenge used to be how we viewed our competition. When we first started in 2011, handmade signs were still 'new'. There were only a handful of handmade vendors like us. When we would go to a show or market, we would be the only sign vendor there! Soon, other people were popping up like crazy! In 2015, I remember going to a Christmas market and there were six other sign makers there. That's the year we almost exclusively pulled out of all markets to focus on our online presence.
After growing and changing we have a new outlook on our business. "There is room for everyone, and more than enough work for us all". If we can't make something or don't have the time to do so, we almost always are able to recommend someone else that can.
Our most recent challenge is our lack of time, which I'm sure every small business owner/parent can agree with. Having three little kids, two of which are still very needy, our balance in our home life is hard. Naptime is valuable time, heaven forbid someone stops for coffee between the hours of 1-3 pm. We are often in the shop after the kids go to bed, working late into the night to catch up and get things done. That uninterrupted time is super valuable. Our parents are very helpful when it comes to helping with our kids, and without them running this business would be so much harder. From babysitting to vacuuming to helping pick up kids and run them to extracurricular activities, we are so grateful.
Our biggest ongoing challenge (and daily challenge) is working with your spouse. We are a team, and we work together every day to keep the household functioning, the customers happy, the orders taken, designed, filled, wrapped, cut, sanded, packaged and shipped — it's all a challenge. Not to mention the ongoing task of coming up with new designs for the upcoming seasons. Working together some days is easy. Workflows, things are great. On other days we are shooting eye-daggers at each other as we hand off kids, projects and timelines. If you have ever worked with your spouse on a project, whether it's home renovations or planting a tree, you each have your own opinions on how it should be done. The same is for us when we work in the shop. Sometimes it's easy, sometimes it's hard… but it's worth it in the end.
"There is room for everyone, and more than enough work for us all."
Karen Wolbeck
You have collaborated with several different businesses, do you attribute your business growth to collaboration?
Definitely yes. Collaborating with other small businesses is super important to us. Sometimes it puts us out of our comfort zone, creating things that aren't normally what we do, but it also shines a light onto an area of our business that we hadn't thought of yet!