Diversification Leads to Success for these Flagstaff Crafted Farmers
Aware of the challenges associated with the industry, farmers are typically an adaptable bunch. One thing that many farmers have in common is understanding that diversification is the key to continued success as a business. The volatile nature of the industry means that a steady income is not always guaranteed. Diversification can introduce complementary income streams that can help farmers continue to farm. Diversifying isn't always going to guarantee success, however, as with anything, it takes a lot of hard work to make it work for you. Read on to learn how these Flagstaff Crafted farmers diversified their farming career into a successful and fulfilling business.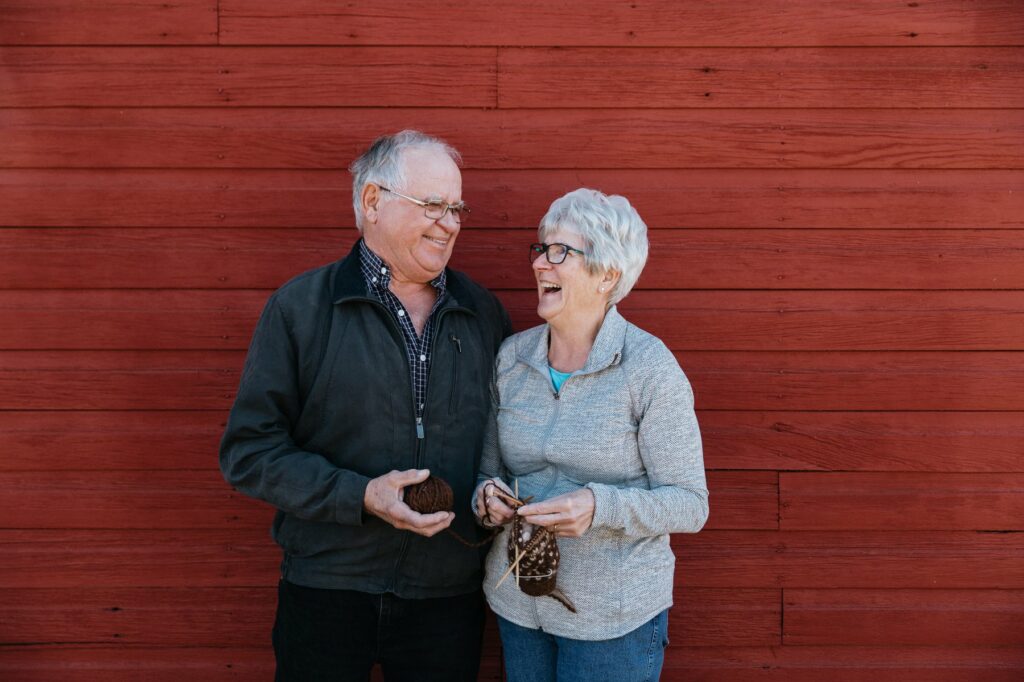 Making the Decision to Diversify
Owners of Battle River Alpacas, Ernie and Denise Gamroth, decided to diversify and further utilize their acreage by purchasing alpacas in 1994. Denise said, "Alpacas are a true labour of love – one that requires a whole lot of hard work." The animals' real value lies in their silky soft fibre. In 1995, what started out as a need for shearing services, turned into a 24-year career in shearing. They sheared extensively in those first 20 years, taking their shearing service to many farms across British Columbia, Alberta, and Saskatchewan. They sheared over 12,000 Alpacas throughout their career and have just recently retired the service and sold their equipment.
Why did you decide to diversify your farming career and get into the alpaca business?
"We just wanted to make use of our pasture land, have something that might provide an extra income and a possible retirement project. We always like learning new things and the alpacas certainly did that for us. They are beautiful, calm, therapeutic, non-aggressive, easy feeders and don't challenge fences. They are typically very healthy animals so are easy to care for."
What was it like to work as a husband and wife team in the business of shearing alpacas?
"Alpaca shearing is very interesting. We started shearing out of necessity as no one around here sheared so we had to learn. We attended a one-day seminar at Olds College and decided, "We can do this!" And we did! Many of our customers said it was so much fun watching Ernie and I work together. We became confident in our shearing abilities and worked well together as a team; many of our clients said it was like watching a dance routine – imagine that! All our customers were very helpful in loading animals onto the table and securing them. We sheared our own animals after work, shearing 8 to 10 a night."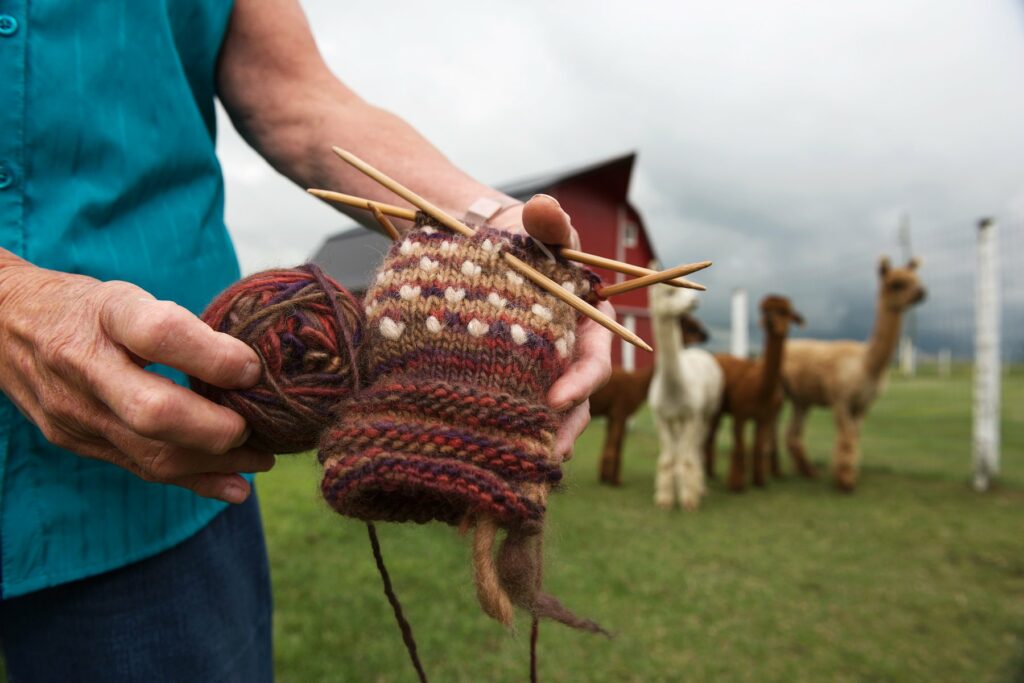 "We can do this!"
Ernie and Denise Gamroth
For the Love of Alpacas
In 2014, after 20 years in business, Ernie and Denise decided to sell their alpacas and pursue their dream of travelling. Their love for the animals and industry remains steadfast so they continue their involvement by introducing and supplying exceptional products to their clients.
When asked about some of their fondest memories in the alpaca business, here is what they had to say…
"First of all the animals are so unique, so easy to love. Their babies are called crias; just adorable little things. We know, all babies are cute, but honestly, these are just the best, so precious! We have met and made many friends in the industry; some we still visit regularly, and we are proud to call them friends. It was a journey of learning from the bottom up, as the alpaca industry was new when we started. They were new to our rural veterinarians as well. We learned together."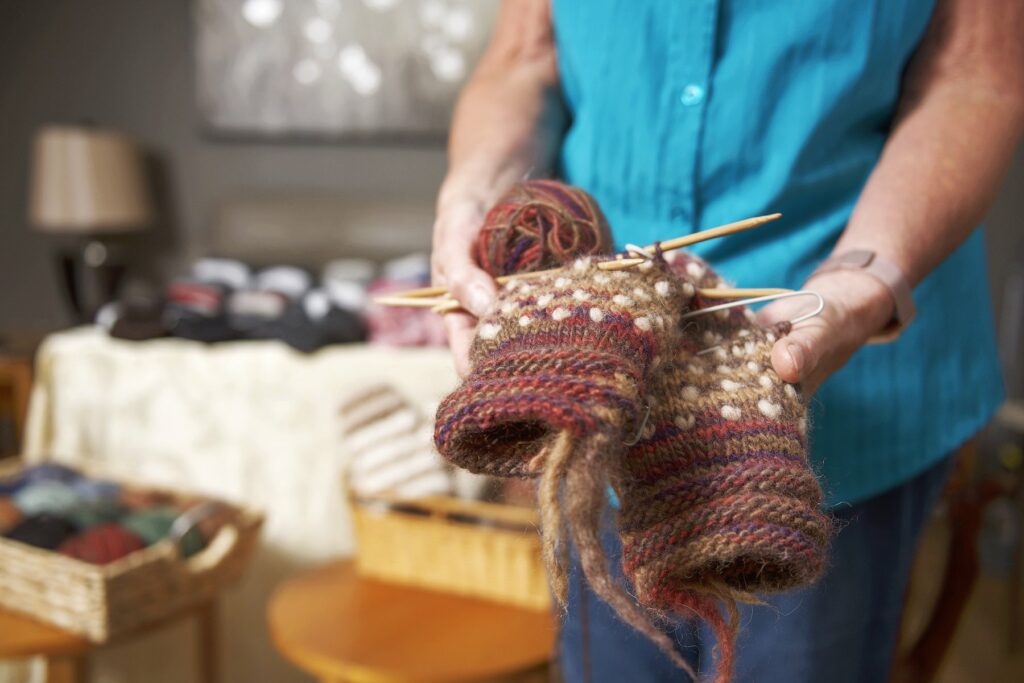 What's in the Wool?
Alpacas produce one of the softest and most luxurious natural fibres in the world – so soft and rare it was once reserved for royalty. Frequently compared to cashmere, the unique qualities of alpaca place it in a class of its own. Warmer and stronger than wool, alpaca fibre is hollow, making it very light with remarkable insulating and wicking qualities. Alpaca products are a luxurious pleasure to both the eye and the touch.
How much fibre does an alpaca produce in a year?
"An alpaca, depending on the fibre quality (fineness and density), will produce anywhere from 4 to 10 or more pounds per year. It also depends on the size of the animals; males are bigger and usually produce more, and as females are usually pregnant as well as lactating, their bodies are very busy making and feeding their cria, leaving fibre production as a secondary product — crias first!"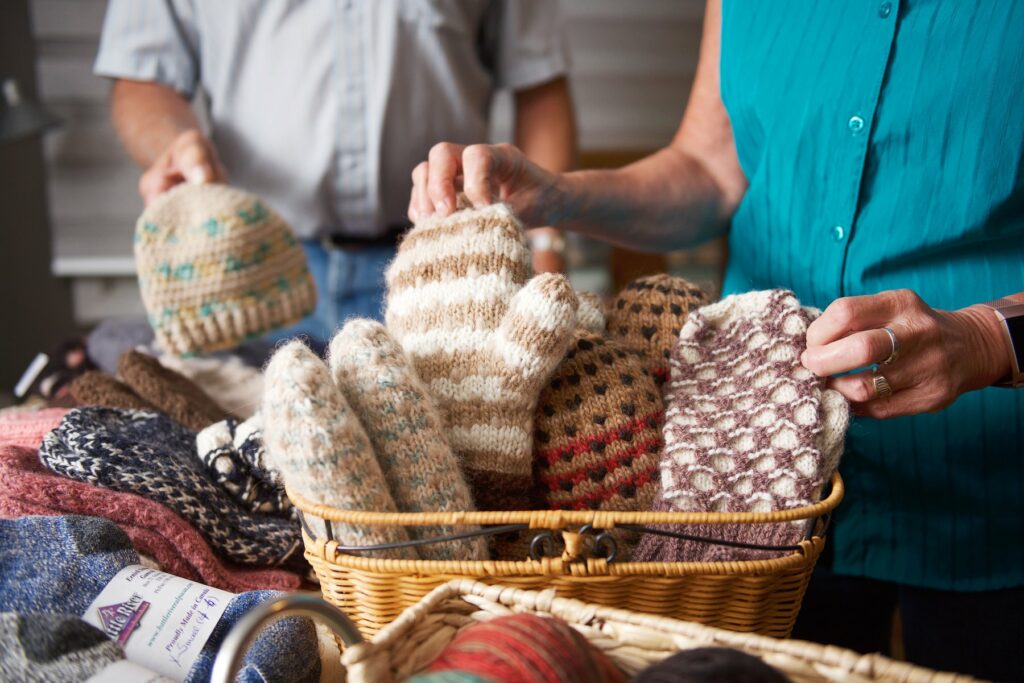 It's All in the Grade
After shearing the alpacas, all the fibre has to be sorted and cleaned. Once the fibre is clean, they send it to one of three mills they use in Alberta. Grades 1 – 3 are processed into yarns. They sell the yarn and also knit and produce many handcrafted articles, such as mitts, toques, hats, scarves and shawls. Denise also hand dyes a lot of yarn for selling and knitting. Grades 4 – 5 are sent away for socks, and grade 6 for duvets etc. Alpacas come in 22 different recognized natural colours as well as various colour combinations.
How many products (mitts, scarves, socks etc.) can be produced from the average alpaca shearing?
"We get around 400 grams of spun fibre per pound which averages out to 1600 grams per alpaca. Out of that, there is a bit of loss in the processing netting about 1500 grams. On average we would get 15 mitts, or 10 to 15 scarves (depending on length). We get approximately 3 pairs of socks per pound, giving us on average, 12 pairs of socks per animal."
What are your most sought-after products?
"Socks and mitts for sure! People love to feel the softness and silkiness of the fibre on their skin. The alpaca products are so warm, soft and durable. We carry several different weights of the socks to fill different needs, such as heavy warm socks for working outside in the cold, medium weights for part-time cold and indoor wear and lighter as dress socks."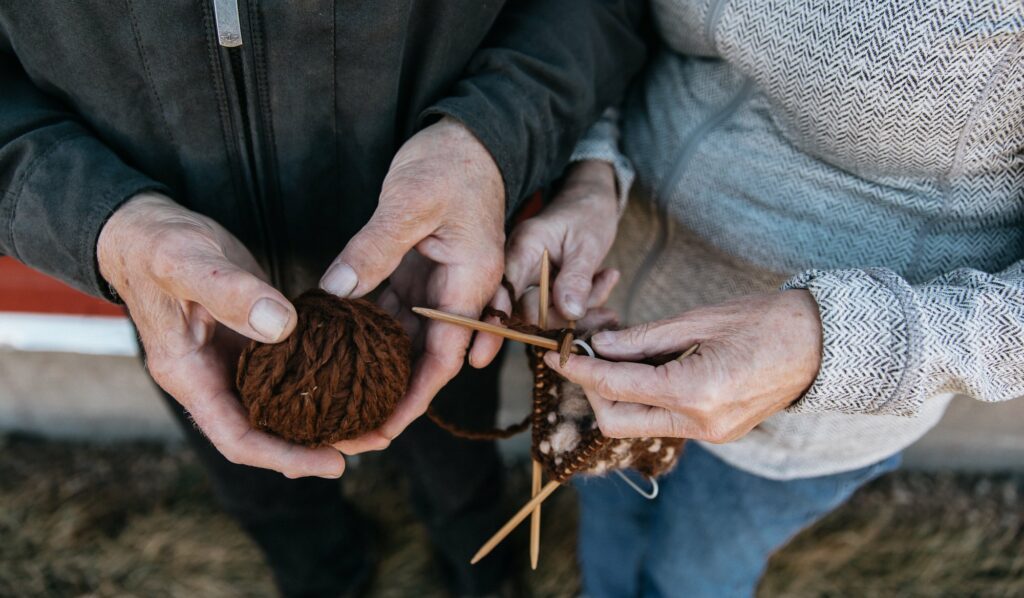 Where Are They at Now
The Gamroths remain involved in the production and marketing of their business. This way, they maintain the connection with their beloved industry by introducing and supplying exceptional products to their customers. Ernie and Denise continue to participate in markets, selling the beautiful and warm alpaca products. They are thankful for the opportunity to share their story through Flagstaff Crafted.